Crew Transfer
Vessels
(
CTV
)
Leading the way in the workboat evolution
Our conversion of former Rescue (SAR) vessels into two of the first German flagged Crew Transfer Vessels (CTV's) has been a key part of the workboat evolution of the last decade. Six new-build vessels have been put into service so far and are being employed in various projects in the North and Baltic Sea.
Our experience ranges from monohulls to catamarans to SWATH hulls. We have worked with crafts made of steel, aluminum, and fiber-reinforced plastic (FRP). Whether the craft is propelled by fixed pitch propellers, waterjets, or an Integrated Propulsion System (IPS) – we have done it all. Thanks to our innovation and experience, we are able to provide you with vessels that are tailored to your exact needs.
On the front lines of the global market
We partner with industry-leading designers, to trial HVO fuels, and specified E-hybrid CTVs. Hydrogen options are also currently being developed. This expertise is shared with our customers to support sale and purchase activities all around the globe.
We desire to advance our customers to the front lines of the global market. To do so we diligently monitor and remain on top of the global market. Benchmarking the global prices of the latest shipyard designs is a primary way we do this. Our vessels are German flagged, BV classed, STCW-crewed, and comply with the standards of the German BG Verkehr.
Building and managing your perfect vessels
Our CTVs are not "one-size-fits-all." We have a clear idea of what a 3rd-generation Crew Transfer Vessel should look like, but we'll listen carefully to each customer's individual needs. We aim to build the perfect vessel for you based on the geography, weather, local legislation, and operational setup of the vessel. In the end, you are free to decide if you want to own the boat yourself. If so, we will gladly manage it for you.
Besides chartering our vessels for clients, we've managed countless charters of vessels owned by third parties. Our integrated management system has been developed over a decade of overseeing challenging offshore operations. This system contains a set of procedures and risk assessments for the transfer of personnel as well as:
fuel transfer
ship-to-ship transfer
heavy cargo operations (including gensets and blade repair tools)
subsea and survey operations
Our vessel management services are ISO certified and comply with the requirements of the ISM/ISPS code and the Maritime Labour Convention. 
BARD Offshore 1
Meerwind Süd/Ost
Merkur Offshore
Nordsee One
Nordsee Ost
Riffgat
Sandbank/DanTysk
Trianel Windpark Borkum I + II
Wikinger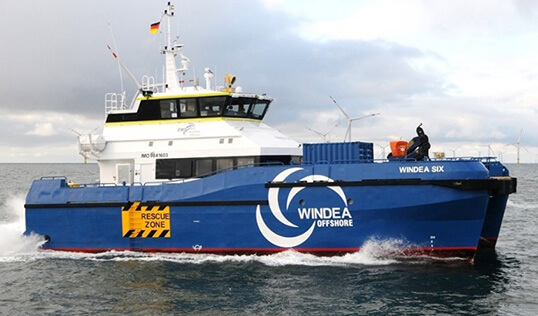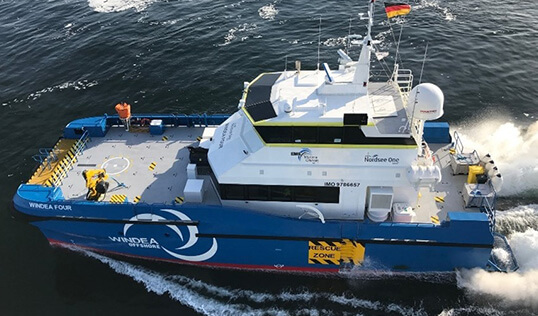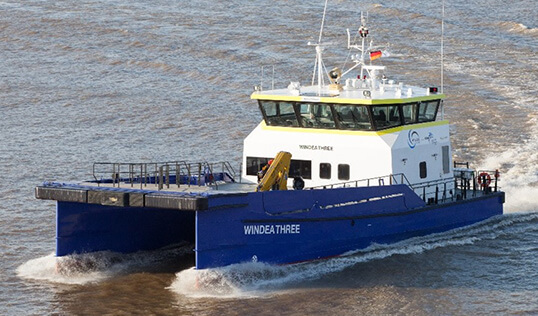 Service
Long term charters of individually customized CTVs
Technical, operational, and commercial ship management of customer-owned CTVs
Technical consultancy and newbuilding supervision
Crewing services for CTVs
Charter management services

Thomas van der Laan
Project Manager