Training Services
The safety and technical qualifications of the operating personnel play a critical role throughout the entire plant cycle and value chain.
Safety and technical qualifications are fundamental prerequisites for the integrity of the employees, the minimization of immanent risks at exposed work sites (on land and at sea), and the quality of the work performed. They are also an integral part of work approval procedures and accident insurance protection.
Seeing eye to eye :
Our commitment as your service provider
There is a wide range of differences between each WTG's plant technology, operator requirements, HSE regulations, material and tools used, the rescue concepts, and each company's procedures. Training courses should therefore be designed to meet the specific needs of each client and the desired outcome of their project. We are committed to seeing eye to eye with you and your employees to ensure safe, high-quality training.
Tailor designed training courses
We design safety and technical training courses tailored to our customer's specific needs. Everything will be carefully planned from the training content, the materials used to each company's work-related processes. This allows us to offer training courses that are relevant to each customer's aims. The training modules will also meet all inherent requirements set by the respective bodies that issue, regulate, and certify training guidelines. As well as adhere to all applicable national and international laws.
Our training services generally fall into one of the following categories:
Safety training (safeskills)
Technical training (techskills)
Additional professional qualifications (addskills)
Safety training is conducted at our state-of-the-art training facility in Elsfleth (30 km north of Bremen). Technical training takes place at our technology training center in Wilhelmshaven. We can also offer you the option of conducting a variety of training courses at your company headquarters or onsite.
References
83 National and international customers
50 Service providers
27 Specialist companies
8 Recruitment Agencies
6 Paramedics/HEMS
9 Maritime Services (Shipping Companies, Ship Owners)
09 Operators (grid/WTG)
08 Authorities/Certification companies
07 Manufacturers
06 HSE/Consulting companies
05 Non Wind
04 Diving companies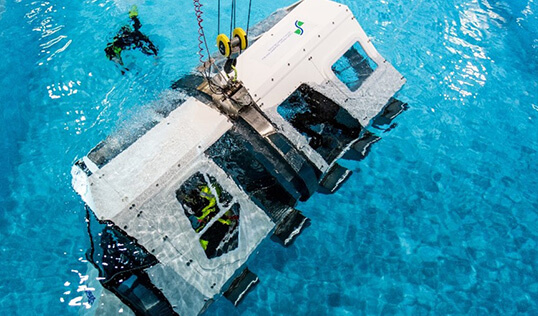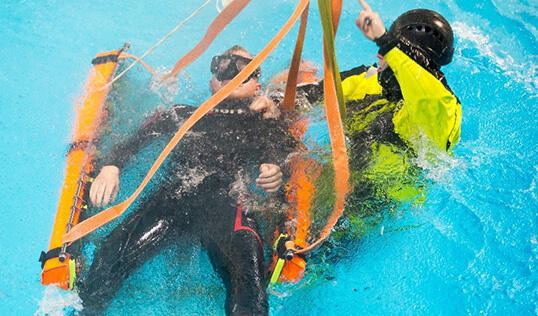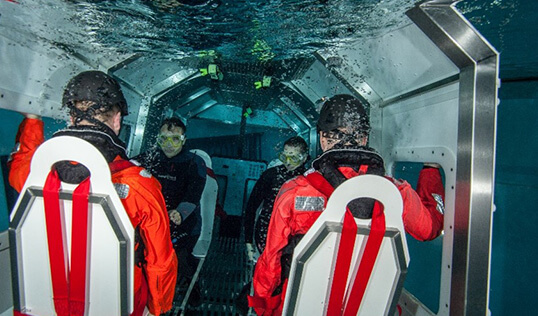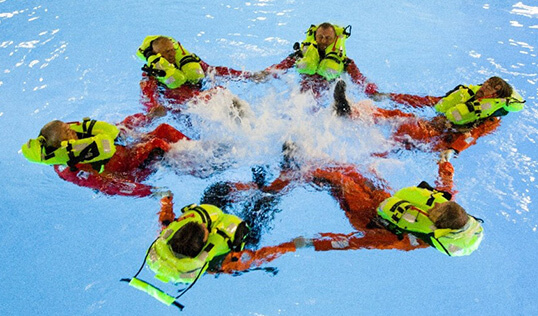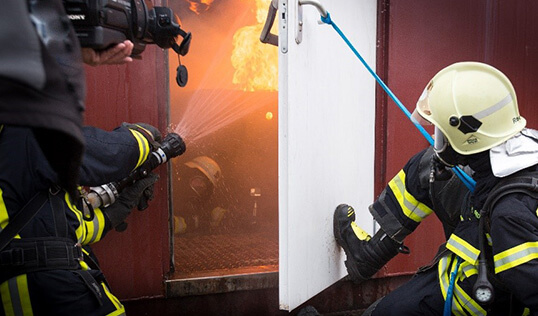 Services/Modules
GWO
Sea Survival, Working at Heights, Fire Awareness, First Aid, Manual Handling, Advanced Rescue Training, Slinger/Signaller, Lift User, Basic Technical Training (Electrical, Hydraulics, Mechanical Module)
EASA
Helicopter Underwater Escape Training
DGUV
First Aid, Firefighting, Usage of PPE against fall, Confined Spaces, Special rescue from heights and depths, Slinger/Banksman, Crane operator, Lifting goods
SCC Doc. 016/017/018
NOGEPA
Basic Offshore, Banksman, Rescue Fire Fighting Team/Leader, Helicopter Landing Officer, Helicopter Fire Fighting
Services/Modules
Electrical
Electrically Instructed Person (EuP), Annual Induction for electricians (EFK), an Electrically qualified person for defined tasks (EffT), Lightning and overvoltage protection, Advanced fiber optics WTG, Preparation for issuing a switching operation (up to 59 kV), Working on live parts,
LoTo procedures Mechanics :
Bolt Tightening and Torquing
Handheld tools
LoTo Awareness
Hydraulics
Hydraulic systems (Basics)
Hydraulic tools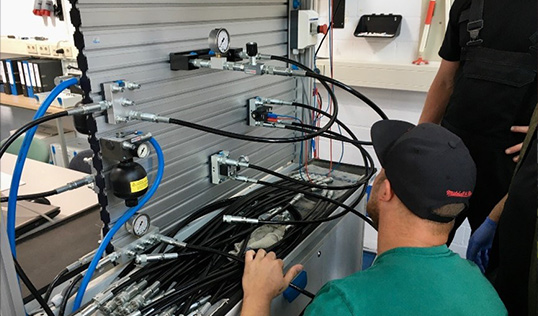 Integrated Training & Materials Service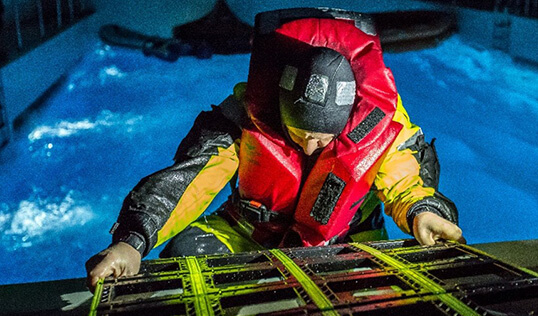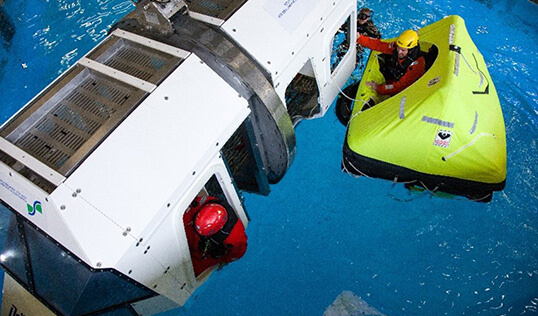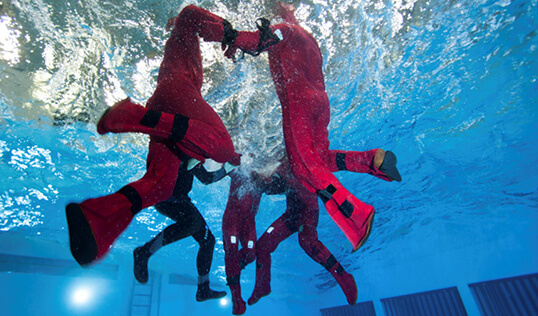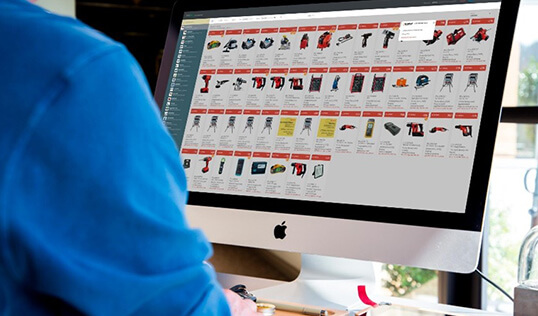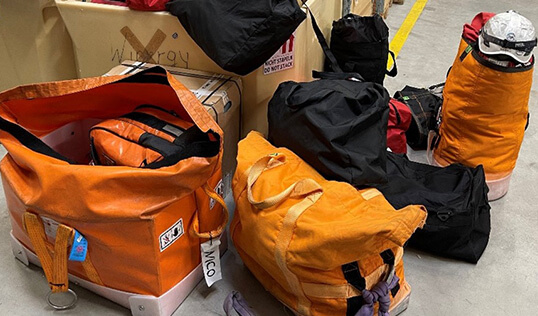 With our Integrated Training and Materials Service (ITMS), you can take advantage of our special service where we'll handle all planning and administrative processes related to your personnel development.
Provide us with a designated contact person at your company and we will gladly coordinate all relevant employee training. In this way, you only have to inform us about time availability and project requirements then we can take over from there. Our job is to plan the necessary training courses, and then organize and carry them out.
As part of this service, we also complete the administration and management of all the certifications and documents your company and employees will require. Naturally, you retain access to the complete documentation in real-time. Using an app on mobile devices the documents and certifications you need are always at your fingertips. This service can also be linked with our materials management service down to employee level with what is called real-time asset management. In this way, you will have access to all documentation at any time, in any place.